Wondering what is a face primer and what it does? Often a skipped over step in our beauty rituals, makeup primers actually have a lot of benefits you might be missing out on. A primer makes a huge difference in the look and wear of your makeup. If you're dealing with smudging, creasing, or disappearing foundation throughout the day, add a face primer to your morning product lineup and you'll notice the benefits instantly.
What is a Makeup Primer?
OK, so first up, what is primer? Like an IG filter, but make it IRL. Face primers prep skin ready for smooth foundation application. Think of your skin and makeup like canvas and paint. You can apply paint directly to your canvas/skin, but priming it first increases the longevity of your work and makes the surface easier to work on, so you won't have to use as much paint aka foundation. And, less foundation makes for a more natural second-skin finish. It's a win-win situation. 
But the benefits to adding a primer to your makeup kit don't end there. Primers can also target specific skin concerns such as oily or dry skin, helping to mattify, blur, illuminate, or smooth, depending on which formulation your skin needs. Reducing the appearance of pores and hyperpigmentation, filling fine lines, color-correcting, and protecting skin from damaging free radicals, finding the right primer for your skin's needs will be a game-changer.
Best Makeup Primer For All Skin Types
Oil-Free Tinted Primer SPF 30 is our new and improved take on our best-selling Tinted Primer. A true multitasking makeup-skincare hybrid, along with boosted priming power to extend your makeup weartime and promote a smoother complexion canvas, we've loaded it with skin-nourishing and balancing ingredients like vitamin C, niacinamide, and salicylic acid, updated it to a reef-safe all-mineral sunscreen. And, if that wasn't enough the tint range is now expanded for even more color-correcting coverage.
Perfect for all skin types, it creates a soft-focus skin filter effect, so you can wear it solo, add concealer for a barely-there makeup look, or layer on before your foundation for a smoother application and to keep your makeup looking its best, for longer.
Different Types of Makeup Primers
What Does Makeup Primer Do?
Primer fills in fine lines and blurs imperfections, and with a smooth, even surface, your products will apply more easily. Since you'll need to use less makeup to get the same coverage, you will save on product and pennies in the long run. Plus, primers creates superior surface adhesion, so your makeup stays in place and lasts longer, especially in extreme weather temperatures and conditions. Hot and humid in the summer or cold and dry in the winter, primer is going to be your new BFF.
Tinted Makeup Primer vs Tinted Moisturizer
You may be wondering what the difference is between a tinted moisturizer like our C-Shield Anti-Pollution Moisture Tint and a tinted primer like Oil-Free Tinted Primer SPF 30 and which one might be right for your skin. 
Think of C-Shield Anti-Pollution Moisture Tint as a skincare-makeup hybrid—it is a skin-conditioning moisturizer loaded with vitamin C and SPF to help protect against blue light and sun damage, and has a sheer mineral makeup tint to even out skin tone. It has a dewy, radiant finish and can be worn instead of a foundation for a more natural no-makeup-makeup look. 
Oil-Free Tinted Primer SPF 30 on the other hand is a makeup-skincare hybrid. Think elevated priming power, with color-correcting mineral tints to even out skin tone in a semi-matte finish, with added skincare benefits including vitamin C and skin-balancing niacinamide and salicylic acid, plus SPF 30. Wear it under your foundation to create a smoother canvas and boost makeup weartime.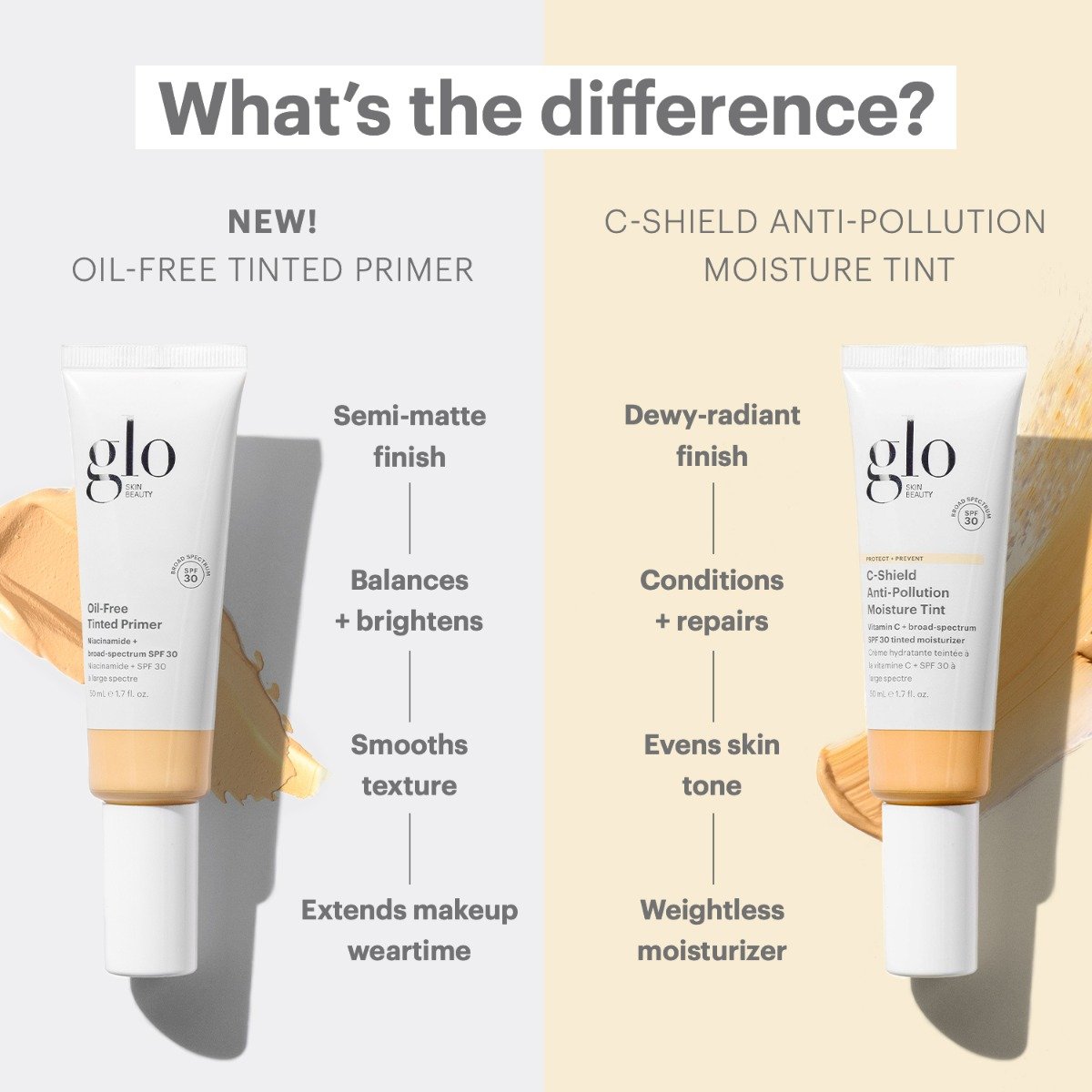 Does Makeup Primer Really Make a Difference?
Absolutely! A good primer can make all the difference to the smoothness and evenness of your complexion. If you're looking to achieve a super natural, your-skin-but-better look, adding a primer will be your go-to. 
How To Apply Makeup Primer
First, apply your daily moisturizer and allow it to absorb into your skin, so you're working with a hydrated surface. If you have dry skin, you may wish to add

 

HA-Revive Hyaluronic Drops

 

to your moisturizer for an added hydration boost.
Then, put a pea-size amount of your face primer on a

 

dome-shaped foundation brush

 

and apply a light layer all over the face starting with the T-zone (nose, forehead and chin). The dome-shaped brush gives the same pressure as a touch of the fingers.
If you use a transparent formula, follow with your foundation application. If you use a

 

tinted primer, wear it alone as an alternative to foundation or layer with a base for extra coverage. Enjoy the all-day wear.
What Brush Should I Use to Apply Makeup Primer?
We recommend using a dome shape brush, but you can also use your fingers or even a makeup blender sponge depending on your preference  Applying primer with your fingers will help warm the product so it melts into your skin. If you're using a sponge, spritz it with a hydrating mist first then stipple the primer onto your complexion. 
Can You Use a Primer Without Makeup?
Yes, for minimalist makeup days or if that's just your general vibe, you can use a primer without makeup as skincare-makeup hybrid. Perfect for your no-makeup-makeup look, adding a tinted primer after your skincare and heading out for the day will give you a smoothed complexion, with flexible and customizable coverage, while neutralizing any unwanted color issues or blemishes. 
And, if you're using a tinted face primer with SPF that will also help protect your skin from premature aging caused by free radical damage. If your primer doesn't have SPF in it, be sure to layer on a sunscreen after you moisturize and before you add your primer. 
For perfected, even skin, get your concealer game strong with our pro tips. 
Blog Post by www.gloskinbeauty.com