With our increased focus on selfcare, skin health, and creative expression, for 2022 skincare and beauty trends just got a whole lot more holistic. We're still in our work-smarter-not-harder mood, but for this year it's all about multitasking products that weigh in at least in three-in-one hybrids to give us more value for our money, have less impact on the environment, and still deliver big on results. 
And with results-driven skincare in high demand, cleanical skincare—a space we're proud to lead the charge on, is trending big in terms of its combination of safety, science, and the most efficacious natural ingredients. With this comes a renewed focus on our skin's health—including maskne (yes, it's still a thing), inflammaging (inflammatory aging), and the skin's microbiome. No longer something indulgent or decadent, selfcare just got real, with our personal wellbeing being at the forefront of how we move through the year. 
Making up for lost time, and still with uncertainty about what the year will bring, makeup is where full creative control kicks in. Playing out in bolder, joyful, dopamine-driven vibes, think abstract eye makeup, two-tone lips, and nostalgic nods to past decades, bringing the feel-good factor to 2022.
"The key thing I'm most excited about in 2022 is skin-forward, makeup hybrid products. We've all heard of multitaskers, but hybrid formulas take this to a new level. Skin-focused, makeup, complexion hybrid products find that perfect in between, as demonstrated by our new C-Shield Anti-Pollution Moisture Tint. You'll instantly be addicted to its silky texture, the beautiful radiant finish, and the complexion-evening flexible mineral pigments. And, this game-changing formula also works on a deeper level, protecting your skin's surface with reef-safe broad spectrum SPF and a blue light shield," shares Anna De La Cruz, VP of Product Development.
Skincare Trends 2022
"I love the skincare trends that are emerging for 2022. It's exciting to continue the conversation about the importance of sunscreen, but then we have a few new things trending that are making the aesthetician in me super excited," shares Steph Scalet, Glo's Global Aesthetics Educator. "At-home treatments are rising in popularity and really making a difference in skincare. There's a renewed focus on skin barrier protection and anti-inflammatory skincare. These are the two things that I know are going to make a huge difference in my skin in 2022."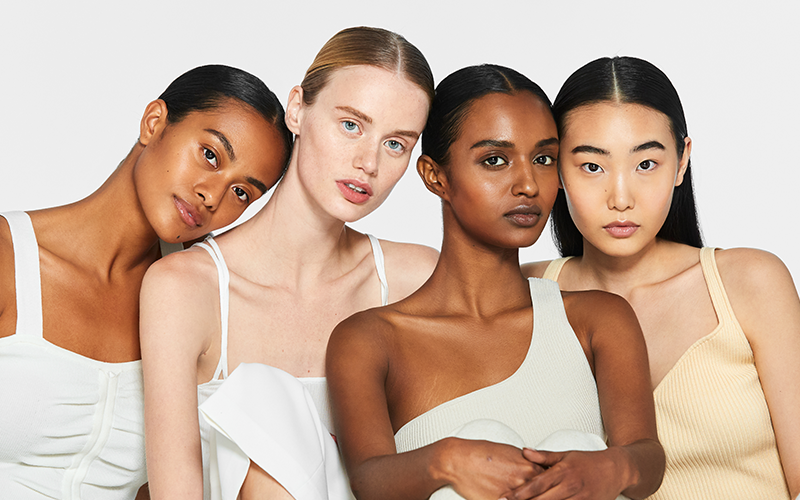 Skin Health
No longer just about skincare, skin health is a key concern for 2022 with our ever increasing awareness of how our lifestyles are impacting our overall health and wellbeing. From minimizing aging factors from environmental aggressors such as the sun, pollution, and blue light with skin-defending vitamin C-powered antioxidant products, to calming inflammation and stress both at a skin level or with supplements and lifestyle modifications, it's clear that this is the year we treat skin more holistically, understanding that skincare is just one piece of the selfcare puzzle. 
Selfcare 2.0
Following on from the skin health trend, selfcare takes on a major new mood. While previously it was seen as an indulgence or a treat here and there, for 2022, selfcare speaks its truth as vital care for yourself in all aspects of life. Whether setting boundaries in your work-life balance, getting better sleep, having a digital detox, or yes, having stress-alleviating massages (we need them more than ever in our WFH times), one thing is clear, selfcare has never been so important. 
With some now considering selfcare as stress-care, stress is known to have a significant impact on the body as a whole—including skin. Overloading the adrenal glands which make and release the hormone cortisol—one of the main causes of inflammation in the body, increased inflammation can manifest in many forms of health issues from raised blood pressure or glucose in the bloodstream, to impairing the body's ability to repair and heal. And, you guessed it, this has a big impact on skin, manifesting in dryness, dehydration, redness, breakouts, hormonal surges, and premature aging. 
Looking for longer-term solutions for selfcare to alleviate stress will be a huge part of our collective conversation for years to come, but there are also ways to support your skin wellbeing right now. Look to nourishing skincare infused with anti-inflammatories such as CBD and adaptogens, vitamin E, and calming aloe vera. Your skin, body, and brain will thank you.
Skin Microbiome
You'll likely have heard a lot about the skin microbiome or skin flora in the past year, and this is set to be even bigger for 2022. Much like the gut microbiome, our skin is a unique mix of millions of microbes made up of bacteria, fungi (yes really), and viruses. This microbiome talks to the immune system to reduce inflammation and help skin stay balanced, protecting us from environmental aggressors, and supporting cellular repair and regeneration. 
With much more research to come in this exciting space, there are ways to support your skin microbiome today. An easy and fun way is to get out into nature (that means outside of the city) as this is believed to improve the diversity of your skin's microflora. Eating a healthy, balanced diet is also key as there is emerging evidence of a connection between the gut and skin microbiomes, and of course, trying to minimize stress too will help. For skincare, look to products that protect your skin such as SPFs or vitamin C serums to support your microbiome, and also work in some probiotic-infused skincare such as our Oil Control Emulsion to strengthen and balance skin. 
Cleanical Skincare
In our trending list from last year, cleanical skincare is set to be even bigger for 2022. Hitting that sweet spot, cleanical prioritizes safety, science, efficacy, and results without harm to you, animals, or the planet. Using sustainable formulating, cleanical products feature the latest in bio-technology or clean chemistry to create lab grown actives as alternatives to naturally occurring ingredients that may be endangered or rare, avoiding exhausting natural resources. Cleanicals also use safe chemical actives and natural ingredients where suitable, with tried-and-tested results. Glo is proud to be a cleanical brand, vegan and cruelty free, formulating all our products without parabens, phthalates, harsh sulfates, talc, mineral oil, and artificial fragrance.
Exfoliation Is Everything
With our focus on improving our skincare and skin health into 2022, one of the most important aspects of this is exfoliation. The fundamental step in all skincare rituals no matter your skin type, exfoliation not only sloughs away dead skin cells that cause dullness and congestion to reveal healthier, newer skin, it also helps supercharge your other skincare products, allowing them to penetrate better. Not all exfoliation is created equal however, and while it's recommended to do maintenance exfoliation several times weekly with Hydra-Bright Pro 5 Liquid Exfoliant, once a month you'll need something a little more transformative. 
Step forward peels. Elevated exfoliation experiences for every skin, whether you're looking to brighten and hydrate, smooth and firm, or resurface and refine, at-home peels are the rising stars of skincare right now and Glo has a full peel treatment menu you'll absolutely love. Forget one-and-done peel pads here, or any preconceptions you might have about peels, these are seven-step treatments straight out of the spa. 
Sun Protection Matters More Than Ever 
Prevention is better than the cure, and nowhere demonstrates this more in skincare than SPF for anti-aging. The sun's UV rays cause free radical damage and oxidative stress, accelerating the growth of fine lines and wrinkles, along with pigmentation issues too. Adding sun protection to your daily ritual no matter the season or whether you'll be outside or not is as important as brushing your teeth in the morning. And, fortunately it feels less of a chore for 2022 and more of a pleasure with deliciously tactile, creamy formulations like our new C-Shield Anti-Pollution Moisture Tint infused with SPF 30, plus a glowing flexible tint too. Oil-free, hydrating, and oh-so protective against the sun and other environmental aggressors like pollution and blue light, adding this vitamin C-powered multitasking tinted moisturizer to your daily skincare will be a game-changer. 
Beauty Trends 2022
"For 2022, I'm excited about the experimentation and makeup now being treated as the true art form it really is," explains Janeena Rumsey, Glo's Global Artistry Educator. "Showcasing more of our skin's natural texture with sheerer, second-skin like foundation formulas is here to stay, while making an impact with splashes of color makes the whole look feel more modern and fresh."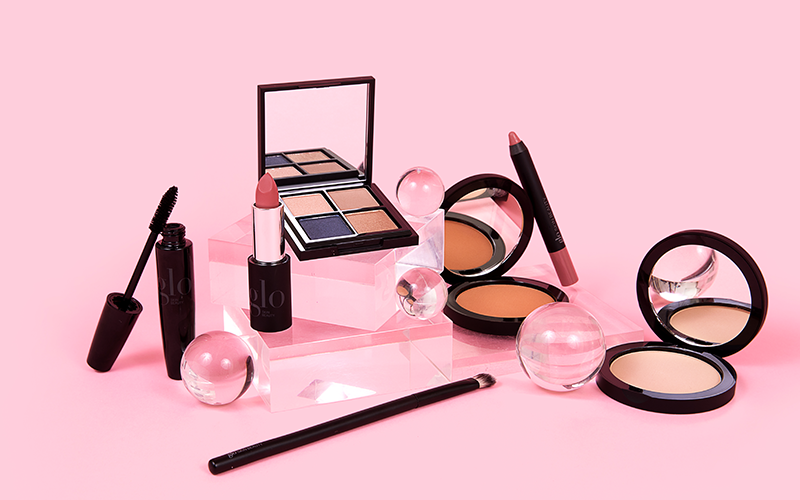 Skin-Forward Makeup
With our less is more attitude, we no longer want 12-step skincare and 14-step makeup rituals, preferring our products to work smarter and join forces, saving us money, time, and have less impact on the environment. This is where skin-forward makeup hybrids come in. Not a new concept but getting next generation makeovers, we want our makeup to be skincare loaded and good for us. Case in point being our new C-Shield Anti-Pollution Moisture Tint. We combined skincare, sunscreen with mineral makeup to create the ultimate replacement for your foundation or BB cream. 
When it comes to 2022 makeup trends, think nourishing lip colors that replenish moisture with shea butter and antioxidants like our Cream Glaze Crayon or Suede Matte Crayon. And, if you don't feel like your makeup has enough skincare in it, you can always add a few drops of your favorite serum to truly personalize your boost. We love adding HA-Revive Hyaluronic Drops for extra hydration, or C-Shield Anti-Pollution Drops for a vitamin C brightening hit. 
Makeup Maximalism 
Minimalism will always have its place but in a time where creative expression matters more than ever, maximalism in makeup has a major appeal. But that's not to say things are going full-blown '80s—unless of course you want them to, for 2022, it's all about maximalist color with minimalist skin. Dopamine colors, nostalgic elements, mixed with futuristic effects, abstract details—think eyeshadow applied in block colors, or two tone lips.
Sculpted Skin
Moving on from those overtly contoured and highlighted looks of days past, 2022's skin favors a more even foundation or tinted moisturizer, with subtle sculpting and a focus on blush or bronzer. This clean skin look allows for more impactful effects on the eyes with bold shadows, graphic liner, and exaggerated lash lengthening. 
Glow Time
Another trend that's not new but always relevant, glow goes 2.0 via a new wave of glowier, dewier, and more nourishing formulations. Obviously it starts with skincare—hello Hydra-Bright AHA Glow Peel, but it needs that little extra love from your favorite makeup formulations. Add Barrier Balm to your bronze or blush to make them pop, and sweep the Glow Up Highlighter Stick across high points on your face to really own that glow. "2022 is a major glow moment. Create statement, glowy cheeks either with color or playing with placement from a youthful flush directly on apples to dusting temples and high cheekbones for a lifted look," Janeena advises.
Kitten Eyeliner
Cat eyeliner reverts into a baby cat liner for 2022. Less heavy and overt than its parent, as its name suggests, kitten eyeliner is more subtle and youthful in appearance. Think less of a statement tail, this liner is narrower, starting at the center of the eye, moving outwards for a natural lift with a slimmer, shorter tail and subtle flick if you like. 
Laminated Brows
If you've been glued to social media over the last year, you'll have noticed brow lamination going viral—IYKYK. If you don't know, brow lamination is a process that gives slick, brushed up, even brows. While there are pro services that will laminate your brows for you, you can fluff up your brows yourself using a simple spoolie brush, brow wax or even soap, filling in any gaps with a brow liner, and finishing with a brow gel.